Product Description
Under direct sunlight, the plastic woven bag is easy to age and has a short service life. Tests show that the strength of the plastic woven bag in the natural environment drops by 25% after one week and 40% after two weeks, making it basically unusable.
That is to say, the storage and custody of plastic woven bags. In addition, when the cement is packed in plastic woven bags and placed in an outdoor environment, its strength will drop sharply; during storage and transportation, if the temperature is too high or exposed to rain, the strength of the cement will be reduced, and the requirements for the protection of the contents cannot be met. Therefore, the storage and transportation conditions of plastic woven bags are very important.
Therefore, plastic woven bags should be stored in a cool and clean room. During transportation, the sun should be avoided, and they should not be close to heat sources. The storage period should not exceed 18 months. In fact, plastic woven bags will age within 18 months, so the validity period of plastic woven bags should be shortened to 12 months.

Product information:
Product color: 1-4 colors
Finished size: length 450-910, width 350-600, bottom width 80-180
Pattern customization: plastic woven bags can be customized according to customer requirements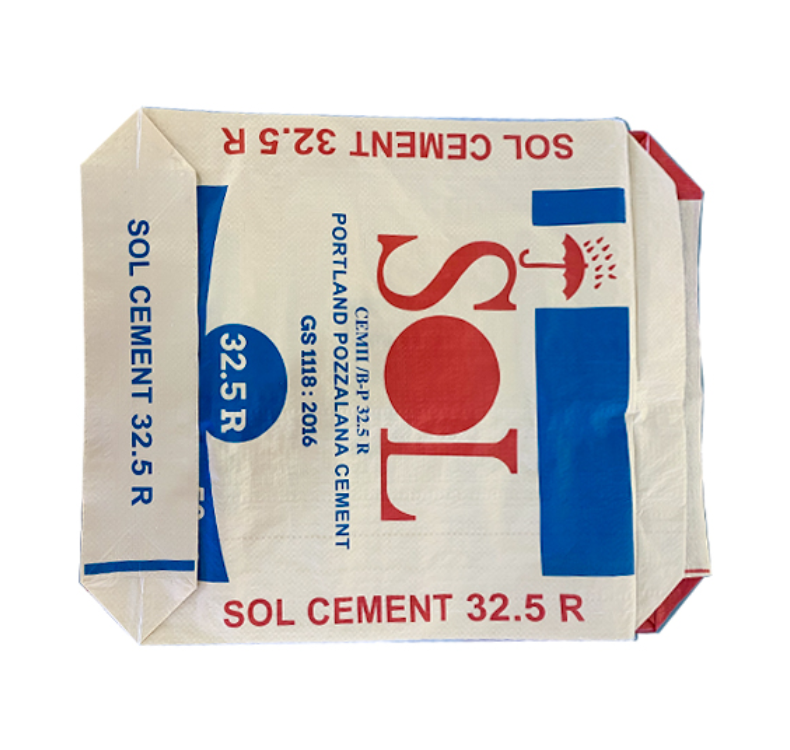 Features:
●Can make ultra-fine mouth, every 1 square centimeter
●64 needles can be pierced, the diameter of each needle is 0.62mm
●Good valve pockets are of good quality and have the advantages of high strength, impact resistance, prevention of external lines, moisture resistance, corrosion resistance, and good slip resistance.
●Sealed back cover, impact resistance, neat back cover, fine workmanship, double protection to prevent leakage.
●The filling mouth can be made into inner filling mouth or outer filling mouth according to your needs, and the funnel-shaped filling mouth can conveniently fill materials, which is not easy to leak, and is fast and convenient.

Our main products include Kraft Paper Valve Bag, WPP Valve Bag, Kraft Paper Bag with Plastic Liner, cement woven bag, woven valve bag, kraft paper cement bag, etc.

Product Usage:
Valve bags are widely used, and more and more industries choose to use valve bags because they are durable and not easy to break. Guangdong Yeston woven bags are widely used in the cement bag industry.

Guangdong Yingtong Paper Co., Ltd
Guangdong Yingtong Paper Co., Ltd. (hereinafter referred to as "Guangdong Yingtong") is an influential building material packaging enterprise in South China, representing the advanced level of production of cement paper bags and plastic woven bags, leading the development trend of cement packaging bags; following the development direction of "Made in China 2025"; adhering to the basic strategy of innovation-driven, quality-first and green development and providing integrity packaging solutions and high quality products for building material enterprises.
Established in July 2015, Guangdong Yingtong is located in Xinsha Industrial Zone, Muzhou Town, Xinhui District, Jiangmen City, Guangdong Province. It covers an area of 84 mu with a total investment of over 300 million yuan. There are two production workshops in Yingtong, Guangdong Province, which are paper bag workshop and plastic woven bag workshop. All production equipment is imported from Germany. The equipment is advanced for manufacturing cement packaging bags with an annual output of more than 800 million bags (more than 400 million paper bags and plastic woven bags respectively). In China, Guangdong Yingtong ranks first in the production capacity and product quality.
Company Name: Guangdong Yingtong Paper Co., Ltd
Representative: Mr Lu
Product/Service: Valve Bag , Open Bag , PP-Woven Laminated Bag , Paper Bag , Block Bottom Bag , Building Materials Bag Chemicals Bag etc.
Year Established: 2015
Export Percentage: 1% - 10%
No. of Production Lines: 8
Factory Size (Sq.meters): 50,000-100,000 square meters
Factory Location: Xinsha Industry Zone, Muzhou Town, Xinhui District, Jiangmen City, Guangdong Province, China
Contact Person: Mr. He
Tel: 86-0750-6228802